"Acoustics Meets Aesthetics" design & art competition
The international WELL, LEED, and other green building evaluation systems all mention that in addition to the certification in air, water, light, the acoustic environmental indicators including background noise, reverberation time, etcs are also within the evaluation scope. They are important indicators for determining human comfort and whether the building environment is for long-term living. International WELL Health Building Research Institute ™ (IWBI ™) regards that WELL certification has also been proposed as a quality certificate for buildings where people often or reside for a long time. Undoubtedly, acoustic design is leading the new process of breaking through the constraints of disciplines and developing towards interdisciplinary and interdisciplinary integration.
Sound-absorbing material - aluminum sound-absorbing board, as the carrier of indoor acoustic design, is usually a flat sound-absorbing board or a standardized (boring) module sound-absorbing unit, as shown in the following figure——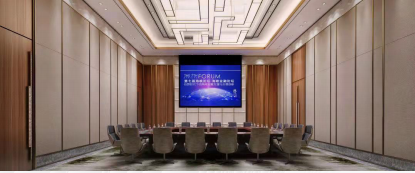 (Image from the internet)
Or so——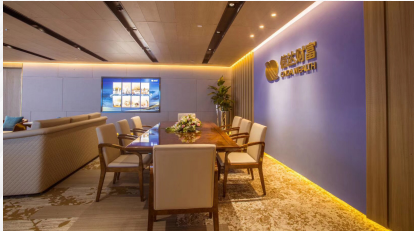 (Image from the internet)
NO! Now we need to break this stereotype and make sound-absorbing materials have a sense of design and artistry.
For example: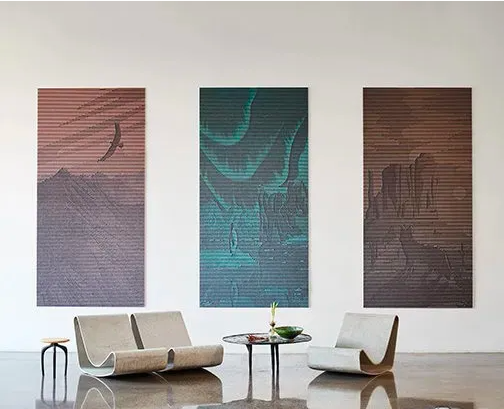 (Image from the internet)
Using sound-absorbing panels as the medium, the high-level perspective relationship of perforation cleverly forms personalized visual language, indicating spatial aesthetics and atmosphere.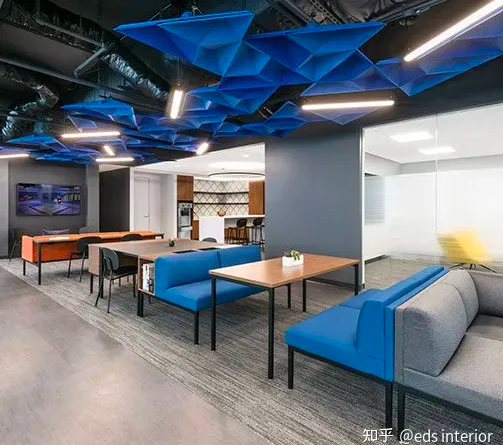 (Image from the internet)
The top sound absorption unit of the space with a unique design can be freely combined and matched, improving the sound absorption effect while enhancing the artistry and flexibility of the space.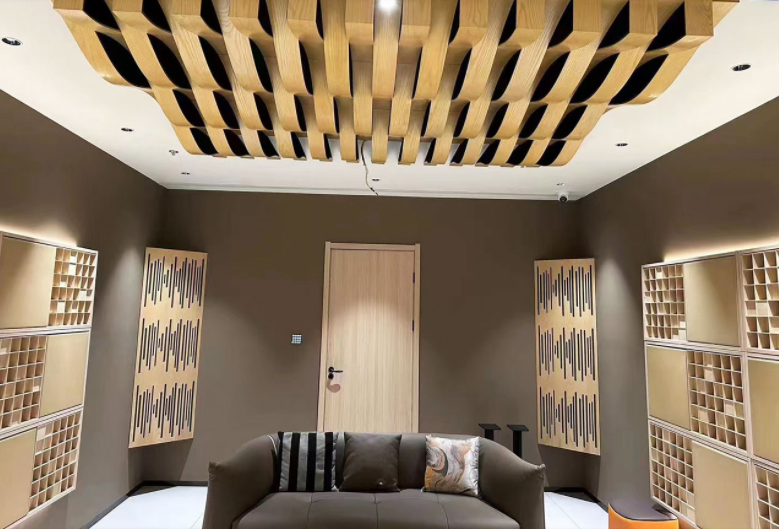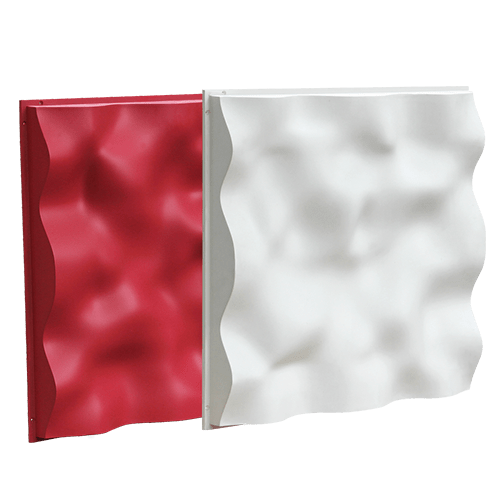 (Image from the internet)

(Image from the internet)
Combining new technologies such as 3D printing and innovative installation systems, the unique sound-absorbing module design of the wall creates a more dynamic and vibrant space.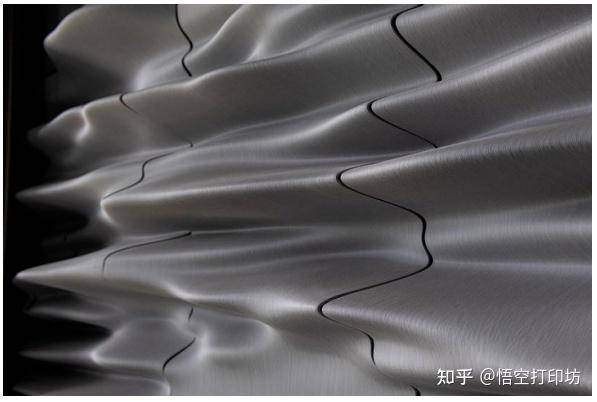 (Image from the internet)
An independent sound-absorbing body with a sculptural feel, reflecting the perfect combination of sound-absorbing technology and art, making sound-absorbing materials a living space artwork.
When acoustics meets aesthetics, what kind of design and space do you want to express?
The "Acoustics Meets Aesthetics" design & art competition will be a stage for you to fully express yourself and showcase your talents!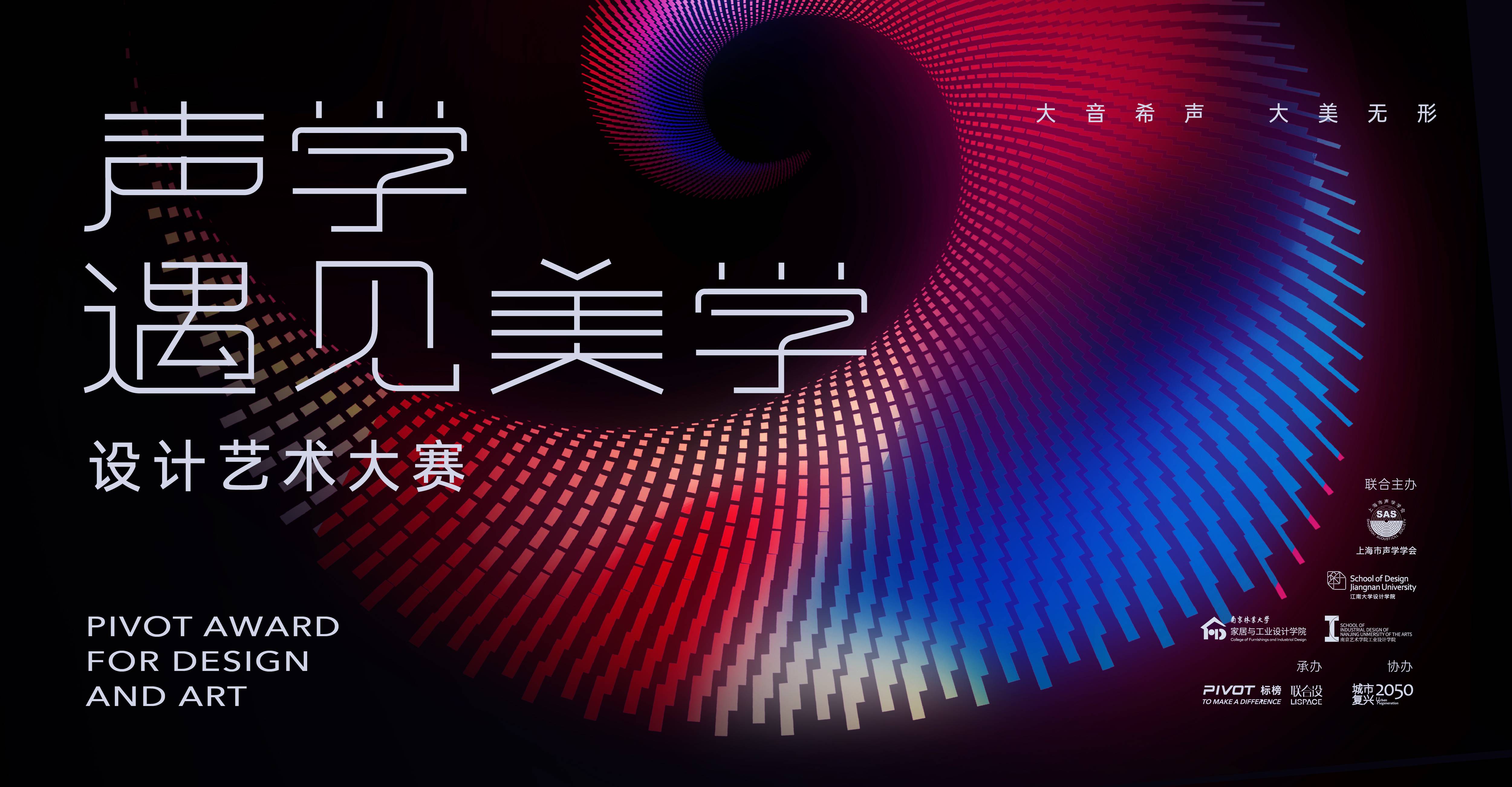 2023 "Acoustics Meets Aesthetics" Design & Art Competition invites your shining debut! This is a journey of exploration from breaking the convention of sound absorbing materials (design thinking) to aesthetic upgrading, and then to its innovative application in the interior design.
Shanghai Acoustics Society
Jiangnan University School of Design
School of Home and Industrial Design of Nanjing Forestry University
Nanjing Art College of Industrial Design
Jiangsu Pivot Decoration New Materials Co., Ltd.
Joint Design Unit
Urban Regeneration 2050 (UR2050)
Track 1: "Modular Design+Scenario Application"
Contestants design sound-absorbing panels in terms of modeling, art, modularization or sculpture, and apply them to interior design.
Track 2: "Space Design"
Designing spaces that combine acoustics and aesthetics, including residential buildings, home theaters, hotels, offices, schools, small theaters, conference halls, hospitals, or any Customized Space, requires consideration of acoustic design and aesthetic expression.
The submitted works include: renderings or realistic images, and design descriptions related to acoustics and aesthetics are required.
Work delivery deadline: July 31, 2023
Judgement period: August, 2023
Award release & ceremony: September/October 2023
1) Awards and bonuses
Champion Award (2 places): Bonus (RMB 58,800)+1 Red Wine Aesthetic Design Tour+1 West Professional Red Wine Tasting Course.
Runner up Award (2 places): Bonus (RMB 28,800)+1 Red Wine Aesthetic Design Tour+1 West Professional Red Wine Tasting Course.
Third Prize (4 places): Bonus (RMB 8,800): 1 Red Wine Aesthetic Design Tour+1 West Professional Red Wine Tasting Course.
Popularity Award (5th place): Bonus (RMB 3,000)+Interior/Acoustics Professional Design Guidance (all year round).
New Star Award (5 places): Bonus (RMB 3,000)+Interior/Acoustics Design Guidance (all year round)+Providing Internship Employment Opportunities.
Excellent awards (several): certificates (excluding bonuses).
2) Professional empowerment and development support
All participants who register for the competition can receive a set of acoustic design training materials.
VIP Acoustics Assistant: All participants can apply to advertise as acoustic design "assistants" (login https://www.pivotdesigner.com Submit your requirements online to receive free acoustic testing and design solutions.
Become a member of the Pivot Designer Club: Participate in various high-end activities throughout the year, and share and exchange ideas with industry leaders.
At the "Design Star" cloud exhibition hall, there is a personal webpage that showcases the charm of design.
Media promotion: The full media matrix focuses on excellent design works, tracking the personal growth footprints and unique design ideas of designers.
Designer's Red Wine Aesthetics Tour: Winners will be invited to a romantic and unforgettable red wine tour, experiencing the multiple blends of design, art, aesthetics, and lifestyle. The first, second, and third place winners of the competition can directly enjoy this benefit, and the Red Wine Aesthetics Design Tour will be held from September 2023 to September 2024; Other winners can apply to join the Red Wine Aesthetics Tour, and enjoy it in the order of first come, first served.
West Professional Red Wine Tasting Course: You can enjoy red wine lectures from international West certified wine tasters, and learn about the wine world in China and even around the world. In the future, you can enjoy personal customized wine tasting consultant.
Proofing of works: Anyone who enters the finals can obtain proof of works provided by Pivot, achieving true physical works.
Exhibition display: All winner works (including physical objects) will be exhibitied and fully gain exposure.
Product Derivation: The award-winning design works develop new products based on market acceptance and share market feedback.
3) Assisting the growth of students
The above reward methods are also applicable to college students. In addition, student participants will also receive——
Special recognition of the "New Star Award" - special support for the "Pivot Material Research and Development Scholarship" (same as the "New Star Award" bonus)
Participate in the Pivot Material Design Creative Camp and meet with well-known designers
Access to competition official website
http://event.pivotdesigner.com/pivot2023?l=cn
Register on the official website and fill out the registration form to participate; deliver your work through the website.
email: sloperock@163.com
wechat: 13910502870
We look forward to your participation.
Organizing Committee of the "Acoustics Meets Aesthetics" Design Art Competition June, 2023